Wednesday. Lunch. I throw on my rollerblades and make my weekly pilgrimage to Silver Snail for "new comic day". I was especially excited because I was expecting Glamourpuss, the newest from Dave Sim, to be out on the shelves this week. Unfortunately it turns out Silver Snail didn't order any Glamourpuss because the guy Michael that makes the orders has a thing against Dave Sim. Which meant I had to throw on my rollerblades and continue west to 3rd Quadrant. Fortunately 3rd Quadrant DID order Glamourpuss, however unfortunately Glamourpuss wasn't going to be out until NEXT Wednesday. Rats.
Well, I was already past Bathurst, and I already had my rollerblades on, so I figure "what the heck, why not skate up to Beguiling".
Now, Beguiling is always interesting. They are the alternative comic's mecca in Toronto. I told myself "I came all this way, I am not going to leave empty handed".
The problem is, Beguiling has so much "stuff" that you become overwhelmed by choice. See TED lecture below.
And because so much of the stuff is weird and esoteric and obscure, it's hard to make a choice and decide what to get. More often than not, I become so overwhelmed by choice that I leave empty handed. Well not today. I decided I was going to get something, it wasn't going to be mainstream, and I would just see what would pique my interest.
What I got was "THREE VERY SMALL COMICS VOLUME II" by Tom Gauld. Chris Butcher seemed to think it was a very good selection. Inside the clever little package was a long panoramic fold out about a bunch of robots (which I didn't "get"), a full page poster comic of "Alphabetical Terrors" which was very amusing, and an actual micro comic called "Invasion" which was brilliant.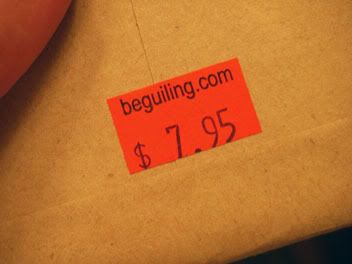 It's interesting to make an impulse purchase like this, and for one; to see if it was worth it, and two; to deconstruct the reasons WHY out of everything that was on display, did your pick stand out from the others.
In this case, the package intrigued me. I wanted to know what was in it. And since the envelope was open, I could check. And once I was engaged into the comic, it held my interest. Also, when a comic is created in a unique format, that is executed well, I appreciate it. VOLUME III of the same series was also available, however it had bright neon colours, and the comics were all sideways. That didn't appeal to me. However VOLUME II were nice rich earthy tones that gave a more authentic "artistic" vibe.
I'm very curious if Tom printed these comics himself, or if they were professionally printed. I notice the print run is 2000. Perhaps I should inquire.
If you're interested in checking out Tom Gauld's work, you can find him on the web here at www.cabanonpress.com
This ends my Wednesday report.
This is Mike Kitchen, signing off.
–