SPX 2007
4:50 am Friday morning, Blair and I hopped in The Possum-Wagon and commenced on our journey to Bethesda MD USA for the Small Press Expo. It was a nice drive. Travelling through Maryland on the I-70 I was captivated by the beautiful rolling hills and miniature mountains, with scattered farms and colonial houses. I wanted to move there. Immediately. It sure beats the concrete sprawl of the GTA. I should have taken a picture. Next year, I'll take a picture.
1:00 pm we arrived at the convention center ahead of schedule. How we managed to arrive on time, when we've been consistently running late on our local cons, I have no idea.
That left us plenty of time to eat some lunch, set up the booth, and get ready for the doors to open at 2:00.
Not that it mattered much. Friday was a very slow day. And yet, it held a few surprises. Like the interview we did for VOA Indonesia. And meeting up with people I had only ever encountered online. So that was nice.
Over the past few weeks I've been trying to adjust my own internal anxieties by letting go of worries, and trying to embrace an optimistic and positive outlook on things. And this con turned out to be a good testing ground to prove some theories. In fact, each time I recalibrated my internal dialogue to keep with a more positive outlook, it seemed like good things would happen.
Learned a few lessons… like this one: Ecclesiastes 11:10.
And this one: Matthew 11:29-30
And this one: Matthew 6:25-35
After the show on Friday, the Marriott set up a bar downstairs. And I could really go for a glass of wine. Of course a glass of wine would cost me the profit of two comic sales. Well, they finally broke me down and I approached the bar.
Was asked "do you have a ticket?"
"No… where do I get a ticket?"
"I don't know. It's $6.50 without a ticket"
So… if I get a ticket, that's like selling two comics…
"I'll be right back… I'm going to find a ticket".
This sent me on an expedition through the convention center looking for the SPX organizers who would surely be the keepers of the drink tickets. Sure enough, they were in the bar upstairs, and surprisingly, Karon Flage saw me and waved me over. Of course, she had mistaken me for someone else (bald heads look alike) but she was more than willing to hook me up with some drink tickets. Yes. This was the sign that told me this weekend would turn out just fine.
Lesson learned: Matthew 7:7
Oh yeah. There was also cake.
It made me laugh.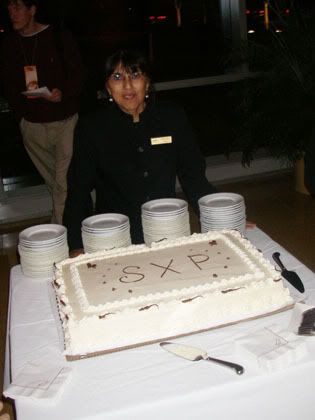 In an attempt to cut costs, we had abandoned the idea of spending $100 a night for a plush room in the Marriott, and instead camped out in the Possum-Wagon. Aside from being impaled by strange seat hooks and attachors, and having reoccurring nightmares of being harassed by parking lot security, I had an incredible sleep.
Saturday, I awoke to a brand new day. A sponge bath in the bathroom sink freshened me up, and I managed to score a free coffee from the restaurant upstairs, and some French toast, strawberries, and another coffee from a buffet downstairs. This all seemed to endorse the above lesson.
Here Blair has finally awoken from his slumber in the Possum-Wagon.
The show that day started off moderately slow, and remained that way until eleven o'clock when things went crazy and picked up. Here are a few sketches that were done over the weekend. Check out Possum Press for more.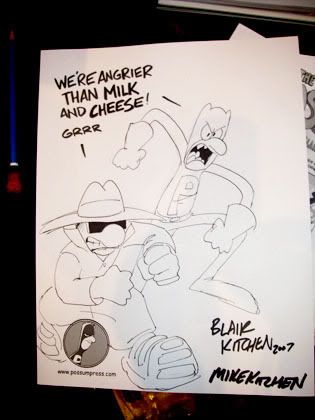 It was a great crowd. Not as artsy and esoteric as the APE and TCAF crowds, and not as pop-culture mainstream as the FAN EXPO crowds. Which seems to be a good fit for our target audience for both SPY GUY and THE POSSUM.
One added bonus was that while I was wandering, I noticed a bunch of other artists I had been introduced to on Dave Sim's Blog and Mail (that I've been meaning to check out). So when I did my round of trades, these were the first artists I hit.
Specifically Scott Berwanger (Anubis), Pat Lewis (Abominable), and Steve Peters (Chemistry).
I never did manage to get a trade with Jim Coon (Beaver). Maybe next year.
In all I scored a box full of comics, (that I've been reading all week on the GO Train). That always makes a break-even or profit losing show seem all the more worth while.
Some other notable events were meeting with the Diamond reps, getting some comics to Heidi MacDonald (could there be a review in our future?) and meeting Dan Merritt from Green Brain Comics, who told me one of his agents picked up our books at the Toronto FAN EXPO this summer. Cool.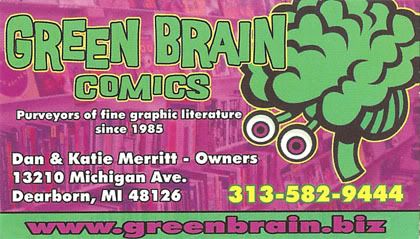 We had great neighbours at this year's show. To our right was John Bintz who draws "A Moment of Clarity" and to our left was Kevin McShane, who does the superhero / hollywood parody "Toupydoops".
The end of Saturday finished of with the Ignatz Awards, and some more wine and drink tickets.
This ended our SPX Saturday.
We had another wonderful night sleep.
Sunday morning I woke at the crack of dawn, where I sponge bathed in the sink, and made my way to the hotel lobby where I bought a coffee, found a comfortable seat, and cracked open my stash of trades.
What a great morning.
10:00 – 1:00 we attended the panels that were offered, which was a good way to spend the last few hours of the con.
All things considered, SPX was a success.
–