First let me state that I do not like Ann Coulter.
Last Friday's Law & Order was an interesting one.
Interesting in that the target of the homicide was loosely based on the aforementioned political commentator, and even more interesting in that I happened to agree with just about everything she said.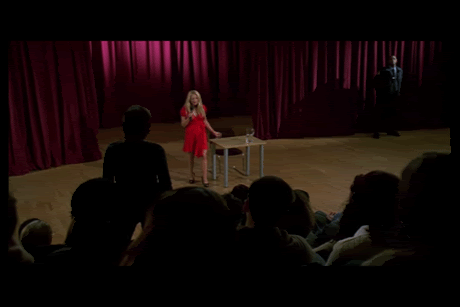 And let me repeat: I do not like Ann Coulter.
Now I'm not sure if the writers were just too liberal, and thought that the opinions they were writing were honestly vile and evil, or if the writers were simply trying to accurately express a conservative point of view. Prehaps actress Charlotte Ross was just too charming in her role as political commentator Judith Barlow. Perhaps her dialog was just too intelligent. However the net result was; I found myself nodding in agreement with the Judith Barlow character while every other character in the show would respond with shock and outrage to her comments.

Some memorable quotes:
Female Student: Bitch!
Judith Barlow: Which brings us to the feminist problem.
Judith Barlow: I've got a ten-year-old niece who can't even tell you who the vice president is, but she can sure as hell put a condom on a banana in two seconds flat.
Judith Barlow: I mean, Give a liberal a gun, he'll shoot himself.
Lt. Anita Van Buren: There's a reason for gun control.
Judith Barlow: I thought we'd at least get a Cheney joke.
Judith Barlow: The left's been castrated by the church of Phil Donahue, they don't carry weapons, hell, they won't even play dodgeball for God's sake.
—
Watch some clips: