If Hellboy had a sister… what would she look like?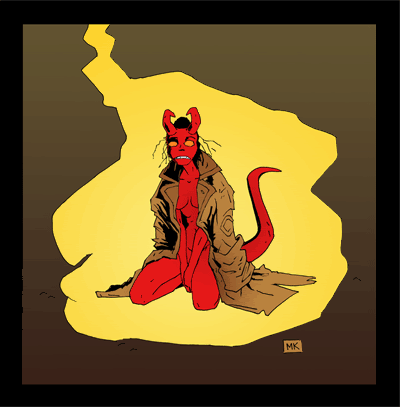 Viktor Kalvachev posed this question over at The Drawing Board last January.
Which got me thinking. This is the part of creation I enjoy the most. The logical progression in trying to flesh out an idea. Sitting at work, after a couple minutes of processing time, an image began to form in my head.
This is my thought process:
I assumed that if Hellboy was to have a sister, it would be a younger sister. Because there has been no mention of an older sister anywhere in the series, a younger sister seemed like the only logical choice. She couldn't be a little kid, because Hellboy is something like 70 years old.
She wouldn't have a Right Hand Of Doom, because that is the sort of item that would be a one-of-a-kind rarity. And her brother's the one that's got it.
When she came to earth, it would be in flames, like when baby Hellboy was summoned. She would arrive unclothed, however Hellboy isn't a cheesecake sort of comic, and I'm pretty sure that Hellboy (who would be bound to be first on the scene) would not let his sis' walk around in the nude, him being accustomed to human traditions and all. Hence the choice of having her covered with Hellboy's trench coat.
She would arrive with horns. Now, whether she would follow her brother's lead and cut them off later is debatable, but my best thinking is she wouldn't, and would instead treat them as a hair accessory; women are like that.
Personality-wise, to start, she would be like a deer caught in the headlights, wondering what sort of world she has gotten herself into. The rest would develop later, depending on the story archs. So that is what I tried to capture in this image.
I did my best attempt at aping Mignola's style for this.
You can let me know if I was at all successful.
I've posted the above image both at The Drawing Board and on the Hellboy Forums.
And if you want to check out the original concept doodles, click open the comment section below.