Wow. December. Already.
November turned out to be a bust for blogging.
But that's okay. 'Cause I've been busy.
Here are some of last months happenings:
Trampoline Hall
October 22
My brother and I were invited to a gathering at Fort York where we acted as Comic Steinographers.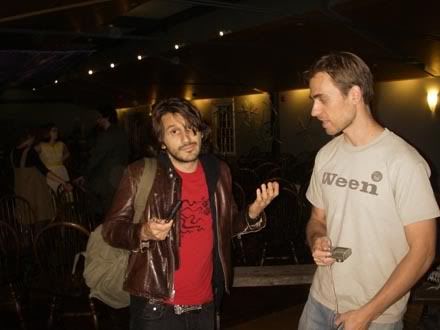 Click for reverse angle.
Our efforts were printed and the book debutted at CanZine.
Contributor list:
Reverend Altor
Roxanne Bieskis
Arthur Dela Cruz
Shannon Gerard
Kathryn and Stuart Immonen
Eric Kim
Blair Kitchen
Dave Lapp
Steve Manale
John Martz
Brian McLachlan
Diana Tamblyn
Sean Daniel Byron Craig
Becky Johnson
… and myself.
Indy Spinner Rack
November 08
The fine folks and Indy Spinner Rack gave SPY GUY a plug in their SPX recap.

With such memorable quotes as… "we have this one, we didn't have the second one, and I haven't had a chance to read them… but I WILL read them" and "here we go… ultra… is…. ultra…. ultrai… ultra eye studio… geeze man, I'm drunk." and "BLAIR was super nice".
Listen to the snippet below. Or listen to the whole thing here.
[audio:isr99.mp3]
They say that there's no such thing as bad publicity, right?
Seriously though, thanks for the plug guys… especially Mister Phil (who actually managed to get "ultraist" right).
Hollywood Hero Con
Blair spilled the beans more than I was going to here, so if you want the full story check out possumpress.
In preparation for the Hero Con show, I also created the mockup cover for SPY GUY#1 and had some nice banners and cutouts created. With any luck, all that stuff is currently in transit back to the Ultraist Studios HQ.
Computer Fixed
The Ultraist Studios Portable Computer had to go in for some repairs and is now slowly getting back to operational status.
SPY GUY Webcomic
I've been sitting on this next strip for almost 2 months now. Just never seem to have the time to get it net ready. However there have been some requests to get that strip moving again, so that has been bumped up a notch on the things to do list.
Blog Journal Fodder
Over the past year, there have been a number of articles that I have typed up, and never posted. I had debated between posting them or just letting them die. But I figure they've been started anyway – so I might as well post the things. I've been especially wanting to kick start that Archeology Project again… a few of those are ready to go.
T-Shirts
Another residual project from the Hero Con show was the Ultraist T-Shirt that I've been meaning to make for the past 2 years. Well, the prototype is is done. Now it's just a matter of ordering a box of black t-shirts and busting out that silk-screen kit.
SPY GUY #1
Trying to get page 5 done this weekend.
Hence the hack job of a blog journal post.
The above will get filled in over the course of the week.
So check back for pics, and audio, and proper grammar.