The Toronto Comic Arts Festival has come and gone. Another interesting show which had a vibe similar to A.P.E. That is, people seemed to be less interested in the standard sized glossy covered saddle stitched (stapled) pamphlet comics, and more interested in mini-zines, art objects, and graphic novel books. That said, the reaction to the Possum Press | Ultraist Studios joint catalog was actually very good.
The venue for TCAF was the Old Victoria College building and the Burwash Quad on the University of Toronto Campus, which was a nice classy place to hold a con. Gaging the size of the crowd was deceptive due to the multiple rooms and levels, and being in a corner table in a side room, it always seemed as though the place was relatively empty despite a steady flow of people.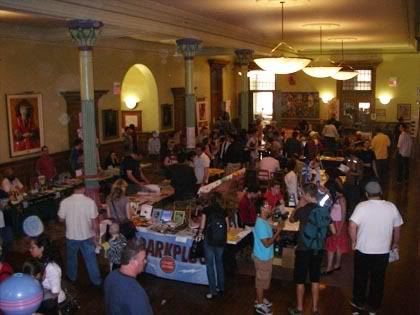 It is such a different vibe from the super-hero cons like the Fan Expo (coming up this weekend). I found it strange wandering around the floor as it felt as though I was walking through the corridors of broken dreams. The majority of the vendors are self-publishers, and all of the vendors are dumping their hearts and souls into their work. Each one selling a piece of themselves for a minimal price, desperately looking for takers. Unless of course you are one of the headliners selling art prints for 50 bucks a pop. Now I don't feel like uploading all of the sketches that were done over the course of the weekend, though here is a sampler (click the image to see the enlarged sketch):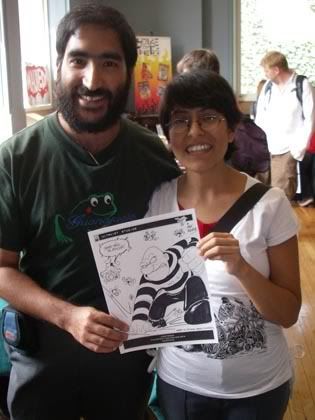 Here is a Mexican couple who were taken by the villianous cast of the Possum #2 (who gave us a literal review of the Spanish portions of the script). Given they are fans of Mexican wrestling, what better sketch to do than Harry pummelling the Seven Deadly Dwarfs! I even had them write the caption.
More fans of The Possum who picked up a Value Pack! Heed Spy Guy's words or warning about Possum fans… he speaks the truth!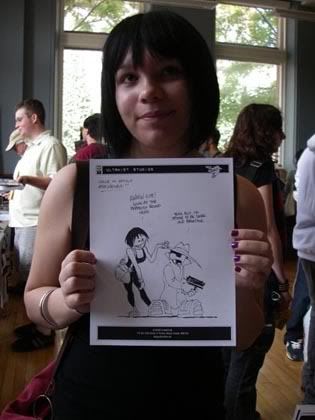 SPY GUY: Minis has always been popular with the ladies. Or, at the very least, the cover has been. I've always been curious what they think after reading it…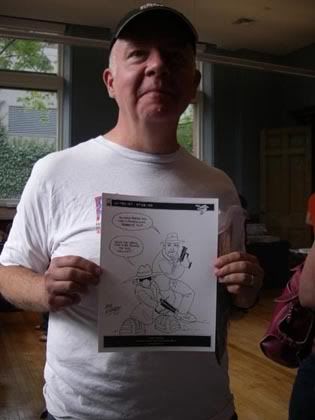 It's always a pleasure when asking "what sort of sketch would you like" when the response comes back "draw me". The "team up" and "versus" sketches usually end up being my favorites.
Trisha wins the prize for "most fun accessories to draw". Now looking at that sketch, I just wish I remembered to draw in the ground shadows…
Somewhere outside of the old Vic building, a rather depressed looking Seth and Chester Brown were overheard saying: "I wish we were as famous and lovable as the fabulous Kitchen Brothers"…
Indeed.
Indeed.
For more TCAF field reports and sketches, click on over to the Possum Press blog:
– day 1 – day 2 –
Stay tuned for FAN EXPO 2007.
–