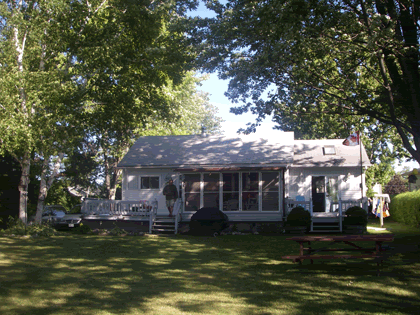 The day began in Brechin, on the north beach of Lake Simcoe at Grandpa Kitchen's cottage. The same cottage where we would read boxes of old DC and Gold Key comics from the early 70's and sit in the camper trailer drawing all day.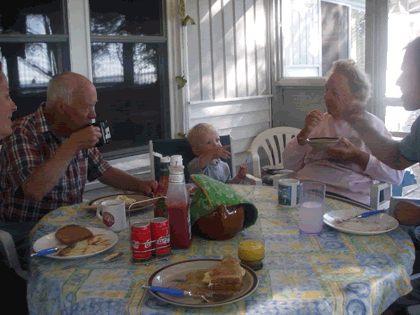 I joined Grandma and Grandpa Kitchen for breakfast, along with my brother Blair, his wife Rochelle, and their son Jacob. The egg sandwich and orange juice arrived courtesy of Mom Kitchen. Thanks Mom!
What better way to start the day than with a quick dip in the lake! Jackson's Point (location of the Cottage Con) is "that way".
A quick jaunt around the lake, and we were there. Here Blair, founder of Possum Press, unloads a box load of The Possum! And check out the beach in the background.
I've got our signs, and a box of Spy Guy comics, and we're ready to go.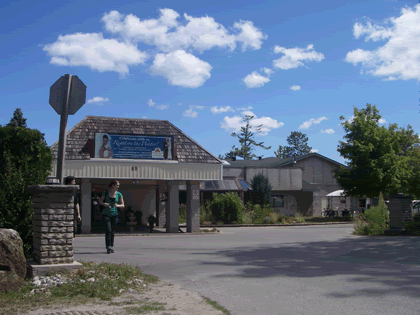 This is the view of Lionshead Resort – located at the lakeside community of Jackson's Point Village in Georgina.
And here we are, all set up at the Possum Press | Ultraist Studios "round table".
The first "Value Pack" sale of the day came quick. And here is the "Spy Guy vs. Wonder Woman" sketch to show for it. After that, the day was extremely slow. Made a few single sales, but most of the time was spent drawing sketches for orders that came earlier in the week. Blair even got some inking done on The Possum #3! But our slow streak ended when…
… the Kitchen Clan arrived! They were our best customers of the day. And while we would have gladly given them their comics for free, they wanted to participate in the Con with a few charity purchases of their own. So who are we to turn away a sale. Besides, those sales probably paid for the gas to get home.
Ah, after a long day at the Con, there is nothing like relaxing on the pier. Good work Blair, and enjoy your rest. You deserve it!
All comics should be made this way…
–
Coming up next: TCAF.
–