The SPY GUY Webcomic: I had meant to get a strip done over the last two weeks. Only I cleaned out my backpack for A.P.E.'07 and keep forgetting to load it with the pencils I had done. Once home, my thoughts are occupied by keyframes needed to be set on jobs number 2 and 3, leaving no thought process to remember to load my backpack with webcomics. Maybe typing this musing will help me to remember. However, my GO Train rides have not been unproductive as I have been working on…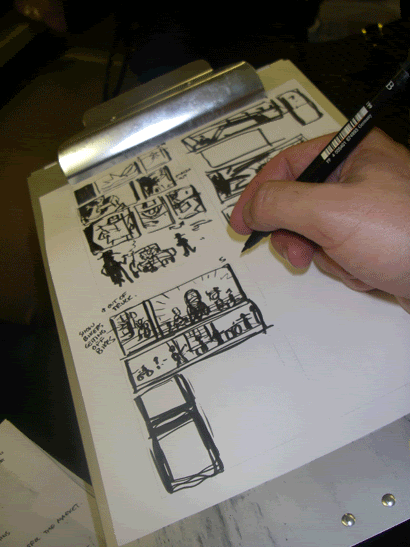 SPY GUY #1: Yes. Pre-Production is well on it's way. I've been getting deep into the nitty-gritty of my final (?) script re-write. All the content and structure is there. Now it's just a matter of reworking sentences and pacing for maximum effect. I'm starting to understand when writers say that 80% of writing is organization. Or something like that. I'll post the actual quote as a mantra at some point. Above is the thumbnails for pages 1-3 of the story (actually pages 6-8 of the comic). Hopefully it's vague enough that it gives away absolutely nothing. I've been experimenting using a Faber-Castell brush pen instead of using my usual blue and mechanical pencil. I like it.
Now that my mind is starting to obsess over SPY GUY #1, it has me thinking about…
SPY GUY #1 Production Journal: Ever since SPY GUY: Bootleg, I had thought it would be interesting to document the creation of a comic. In the back of my mind I had thought that SPY GUY #1 would be a good one to document, for the sake of nostalgia if nothing else. I wasn't sure what the best way to document the process would be, however now, with the advent of message boards and blogs and youTube and digital cameras capable of high res images and video recording, I'm thinking that I could piece-meal something together as I'm doing it. It would take a bit of discipline to keep with it, but it would also supply a massive amount of blog fodder. The only thing I'd have to do is strike a balance of behind the scenes material, and out-right spoilers. If anyone out there has any thoughts on this, leave a comment and let me know what you think.