Things have been busy around here lately.
Not a lot of time for extra curricular activities, like blogging.
However this week has been a good week for mail.
So let's take a look at some, shall we?
This package arrived a few days back.
From Chuck Palahniuk.
Back in October of last year, the Chuck Palahniuk fan site TheCult announced that Chuck would be accepting, and responding to fan letters mailed during that month.
So, today: My letter to Chuck Palahniuk.
In it, I tried to use some of the writing devices he talks about in his writing workshop. Submerging the "I", and using a theme or "horses" (in this case water) to drive the story forward, and un-packing information by using personal events to depict the transition of time.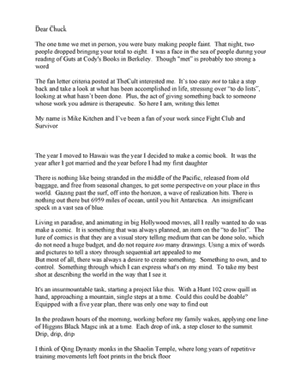 Tomorrow: We'll open the box, and take a look at what's inside.
–