3 posts back the Ultraist Blog Journal broke the story on the Ultimate Spider-Man 100 variant covers.
Now we bring you this exclusive scoop!
THE ULTIMATE SPIDER-MAN #100 VARIANT BY DAVE SIM!
What? You thought you could get through the week without the mention of Dave Sim? Foolish blog reader.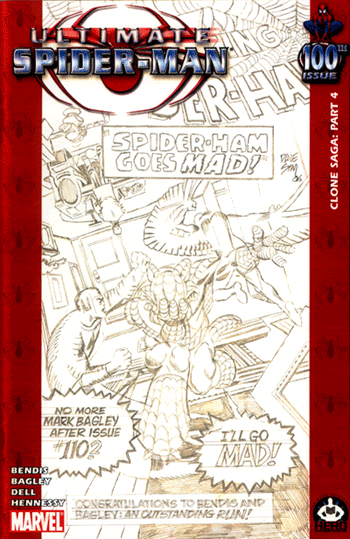 In his latest press release, Dave Sim is quoted as saying:
"…to mark just so extraordinary achievement struck me as calling for a completely unprecedented contribution from the Pariah King of Comics: Dave Sim doing his first ever Spider-Ham cover!
[For those not aware of the history, way back when the earth was still cooling and I had done my three consecutive Wolverroach covers on Cerebus 54, 55 and 56—thereby sincerely pushing the boundary between misappropriation of a trademarked character and legitimate parody—I suspect that Marvel decided to fire a warning shot across my bow by coming up with a funny animal version of Spider-man that was basically Cerebus in a Spider-man costume. I don't know whose idea it was (Jim Shooter his own self?) but I have to say that I always admired the thinking behind it. It was a very measured response along the lines of "See? How do YOU like it?" while also a creative one and, ultimately, a profitable one! According to my Overstreet Guide, Peter Porker, The Spectacular Spider-Ham ran for seventeen issues from May 1985 to September 1987 as part of Marvel's Star Comics children's line. Not a bad run for the mid-80s]
Anyway, I always thought it would be interesting if an opportunity arose where I could draw Spider-Ham (just for the experience if nothing else) and this benefit project seemed like the moment I had been waiting for."
Indeed!
The above image is the pencils.
Stay tuned for the coloured final.