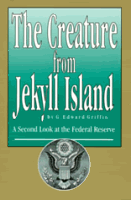 The Creature From Jekyll Island by G. Edward Griffin is a book I heavily referenced for my next comic, Spud & Harry.
It discusses the The Federal Reserve System, Fractional reserve banking, fiat money and precious metals, etc. One of the best reads I've had on the subject.
From Amazon: This book is about the most blatant scam of all history. It's all here: the cause of wars, boom-bust cycles, inflation, depression, prosperity. Creature from Jekyll Island will change the way you view the world, politics, and money. Your world view will definitely change.
Here is an mp3 lecture with the author G. Edward Griffin. <172mb version>
[audio:creature1.mp3]
Here is an mp3 radio interview with the author G. Edward Griffin.
[audio:creature2.mp3]
In some cases, the audio quality is quite poor, however once you become immersed in the subject matter, you won't even notice…