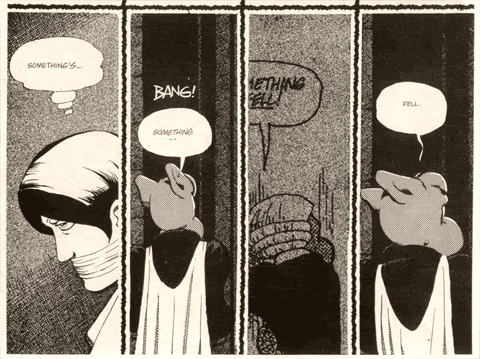 Late Breaking News via cerebus@yahoogroups.com
Gerhard and Aardvark-Vanaheim have parted ways.
Effective as of December 31st, 2006 Gerhard has parted ways with
Aardvark-Vanaheim and long time partner Dave Sim.
Dave is still in the process of gathering the funds necessary to buy
out Gerhard's 40% share of the company, but this will not affect the
publication of future Cerebus volumes or, presumably, Following
Cerebus (which is experiencing its own in-house delays at Win-Mill
Productions). In fact, the proofs are in for the fourth printing of
Form & Void and soon we will see the first Cerebus book *not*
printed by Preney Press.
As a result of the split, Gerhard will not be attending the SPACE
convention in Columbus, OH this year. Bob Corby has been notified
and will be adjusting the website accordingly in due time.
Sorry I couldn't say anything earlier, but with SPACE approaching
and people trying to finalize plans I asked Dave, and he said it was
OK to announce it.
I have exchanged emails with Gerhard. He seems like he's doing well,
but is understandably keeping his distance a bit while the reality
of the situation settles in.
On the plus side, Dave sounded *much* better today on the phone – a
dramatic improvement (while it will probably take a little while for
his hearing to get back to normal).
Beyond that, I'm not at liberty to discuss any details of the split.
-Jeff
—
I think there are a couple of points I can address without
being "improper."
The main question seems to be: who's idea was it?
That would be Gerhard.
As Ryan mentioned, anyone who read the Last Day notes knows that a
split was very possible. They haven't been social for many years.
Was there strife? Of course. Why would you think otherwise? You don't
end a 20+ year partnership because everything is peachy keen.
Was it amicable? As far as I know, yes. The decision was made, they
discussed it, and came to an agreement. I won't speculate any
further, or degenerate into a game of "he said/he said." That's
tasteless and pointless.
If it makes you all feel better, I do know that Gerhard feels badly
about not coming to SPACE as he really enjoyed hanging out with us —
the highlight of the weekend, he called it. He thought long and hard
about coming anyway, but given the situation I think he made the
right decision for himself.
I hope this is enough to quell your thirst for answers until such
time as Dave or Gerhard decide to expound — here or in any other
public forum.
As for me, I personally felt a profound lack of shock over the whole
thing. Sure, it's sad – but Dave and Gerhard are both intelligent,
grown men and they'll be fine.
I still look forward to seeing my friends at SPACE, and plan on
having a great time!
Vivat Cerebus!
-Jeff 
—
I've always considered Dave and Gerhard's business partnership to be the pinnacle of an artistic collaboration. I've always been interested in the inner workings of Aardvark-Vanaheim, however with this recent development, I'm all the more curious about what happened, and how things will be resolved.
Hopefully we can learn more details in a future issue of Following Cerebus.