I pulled this article out of the Toronto 24 Hours news flyer last week: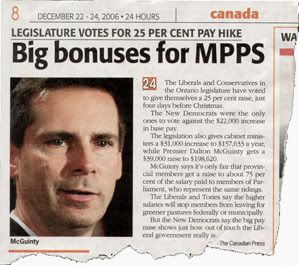 Flashback to a month ago. I was walking down King St. W. on my way to my "Clark Kent" day job when I walked past a city street sweeper. I thought to myself that this was a job worthy of having done. It is benificial to society to have it's neighbourhood properly cared for. It is worth while to have tax dollars spent on the neighbourhood's upkeep. And that got me thinking about other social (socialist?) programs. Which ones are worth having tax dollars spent on. This then got me thinking about government…
The problem as I see it, is that the average citizen doesn't see their elected officials as being worth their tax dollars spent on them. Part of the problem is that the average worker hasn't seen a real world pay raise since the 1970's. And yet the cost of living continues to rise. Meanwhile elected officals, unlike the average worker, are in the unique position to vote their own pay increase into law. That is enough to enrage the average citizen and is unfair given that the elected official should primarily be looking out for their citizens best interest. So the question becomes: How can we make sure that the government official's pay reflects their service to their citizens? What could be a solution?
Median Pay.
If our elected officials were paid the median of the nation's annual salary, then it would be in their best interest to elevate the wages of those with lower incomes.
While we're on the subject of elected officials, I also think that their campaign promises should be a legally binding contract, which if they break, the elected official will be prosecuted to the fullest extent of the law… but that's for another "Thought Of The Day…".