One of my biggest stumbling blocks at the moment is that I'm not drawing. I'm doodling. Partially due to time constraints and partially due to being scatter brained. It's tough drawing comics when there isn't time to get into the grove.
However, to reach the next plateau, this is something I have to overcome.
And Walt Stanchfield had a couple good lessons on the subject.
17. Doodling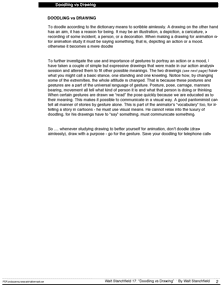 32. Lazy Lines
The above .pdf files are once again from Animation Meat where they have all sorts of good instructional stuff from the masters of animation (located in the notes section).